If you are a non-profit and would like Minick Materials to sponsor your group, event or project, please download our donation form. For your donation request to be considered, we must receive your request at least 30 days before your event.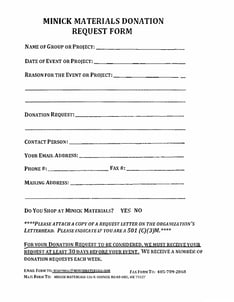 Mail Form to:
Oklahoma City
326 North Council Road
Oklahoma City, OK 73127
Edmond
14141 North Santa Fe Avenue
Edmond, OK 73013
Norman
6665 North Interstate Drive
Norman, OK 73069
Fax Form to:
405/495-1842
OUR LOCATIONS
Oklahoma City

326 North Council RoadOklahoma City, OK 73127405/789-2068
Edmond

14141 North Santa Fe AvenueEdmond, OK 73013405/418-2209
Norman

6665 North Interstate DriveNorman, OK 73069405/329-2458
CONTACT INFORMATIONPrimary Phone:


405/789-2068
OUR HOURS*

Monday–Friday:

6:00 a.m.–5:00 p.m.
Saturday:

6:00 a.m.–5:00 p.m.
Dec. 31st:


Edmond & Norman closed at 12Main closed at 1
*Exceptions may occur, including some holidays.