Rock-solid and built to last
Minick Materials has been helping contractors, builders,
architects and home owners bring their vision to life for
more than 60 years.


Building Stones
Nothing gives character and presence to a space like stone walls. Choose from our large selections of Full Bed Depth and Thin Veneer natural stone.
Soils & Sand
Whether you're building, gardening or landscaping, we have the perfect soil or sand for your projects. We're also licensed to sell CU-structural soil for larger projects.
Flagstone
Flagstone is a popular landscaping stone for patios and walkways, because of its timeless look, attractive price per square foot, and easy installation.
Specialty Soils
Cannabis is the next big industry, and a good harvest starts with a good soil. We carry specialty soils, amendments and nutrients that will result in bigger, better crops.
Mulch
Mulch is a miracle-worker in the garden: it conserves moisture, reduces weed growth and improves the health and fertility of soil.
Crushed Limestone
We have screening, chips and coarse crushed limestone in many colors for your outdoors projects. Crushed limestone is great as decorative gravel, ground cover, for driveways and more
Minick Materials Pathways
We have three pathways full of product recommendations, helpful guides, and ideas to serve our wide variety of customers. Whether you're a DIY-er, commercial property manager, outdoor design professional, or cannabis grower you can choose the path that best fits your needs below.
Let us rock your world.
Choosing the perfect decorative rock, building stone or landscaping materials can be daunting, but we have lots of resources, inspiration and advice to help you choose confidently. Read more about soil, compost, decorative stones and much more in our resource center.
Get inspired with photos of projects from our customers, and don't forget to share your own for a chance to be featured in our inspiration page.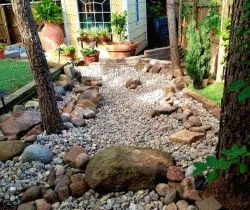 Three convenient locations to serve you
We have three convenient locations in Oklahoma City, but our expert team and customer service are happy to serve you wherever
you may be.
We ship nationwide! Our delivery tool can help you estimate how much shipping will cost within the state of Oklahoma. Contact us if you need your materials shipped anywhere else, and our experienced team will get you a quote and help you every step of the way.
Outside our region? We offer nationwide delivery. Call 405/789-2068 or contact us online.
More than Materials
Minick Materials is a family-owned company, founded in 1958 by Kenneth Minick and his wife Nova. What began as a mere topsoil and sand delivery company has become one of the largest landscape material distributors in our region, as well as shipping nationwide.
We love to stay involved with our community: we provided the majority of the stone for the Oklahoma City National Memorial, soil donations for the Children's Center in Bethany, as well as supplying materials to local churches, day cares, retirement centers and countless others.