What does the Lunch & Learn program offer?
The Lunch & Learn program will be offering both in person and online courses (through Zoom) where the sessions will be an hour long and have lunch provided for the participants. These courses will also be eligible for credits. Your enrollment in the program will count towards

1 CEU (Continuing Education Unit) per course

Credits towards the American Institute of Architects (AIA)

Credits towards the American Society of Landscape Architects (ASLA)
Currently Offered Courses: Specs for Success Series
We currently have three courses available that will set you up with the specs for success you need to become an expert on natural materials and how to work with the environment your project will reside in, the best materials and designs for various scenarios, how to create structures that will last, and more. These courses count as Health, Safety, and Welfare courses and will give you credits for the architecture programs you are affiliated with.
The Benefits of Structural Soil.
Learning Objectives:
Decreasing tree mortality and reducing sidewalk
failure using structural soil
Reducing heat island effect and pollutants
Improving tree vigor & preventing sidewalk failure in urban designs
Reducing the need for drainage infrastructure by incorporating structural soil into the design
CU Structural Soil in fire lane applications
The Nature of Natural Thin Veneer
Learning Objectives:
Describe how quarried stone becomes thin veneer
Discuss four application methods, adhered veneer codes, and general installation steps
Analyze comparisons between full, thin, & manufactured veneers
Recognize sustainable-design and health-safety-welfare qualities of natural thin veneer stone, as well as in its
Regional Stone Selection
Learning Objectives:
Overview of the regions around us which produce the sandstone and limestone formations.
Identification and description of the SANDSTONE available within the region.
Identification and description of the LIMESTONE available within the region.
Using sample stones to distinguish limestone from sandstone.
Minick Materials Cares:

We Are More than Just Suppliers. We Want To Be A Resource for Our Community
Though our Lunch & Learn program currently offers only Health, Safety, and Welfare credits, our hope is to expand the program to teach courses on a variety of landscaping and construction topics since our goal is to help members of the community grow their skillset and experience in order to lead the path for innovation and creativity in these industries. The Lunch & Learn program is always evolving - we want to offer courses that fill a need in the community based on suggestions from customers like you. If you have any recommendations or feedback about our offerings, please let us know!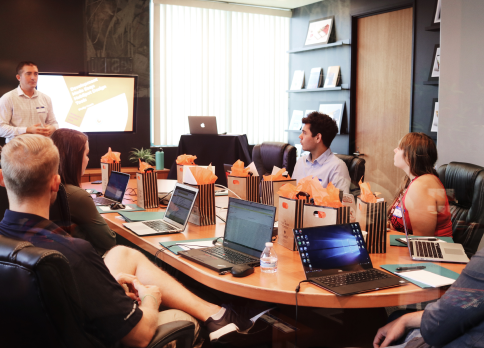 Join Us For Quarry Tour 2023

Quarry Tour 2023
The Quarry Tour is an annual event hosted by Minick Materials. Attendees have the opportunity to see quarry locations within the United States and learn about the stone production process. The tour provides a unique, up-close look at how stone is extracted and produced.
The 2023 Quarry Tour promises to be an educational and fun event for all who attend. It will last over the course of two days in October and spotlight various quarries in southeastern Oklahoma and northwestern Arkansas. If you're interested in seeing how stone is produced, and getting a firsthand look at the hard work that goes into it, then this is the event for you. Register now and don't miss out on this unique opportunity.
What is Included in the Quarry Tour:
Learning Opportunities that allow you to witness:
Where stone is quarried in the region
How sandstone is quarried
How slabs are cut into various usable pieces
How stone is prepared for distribution
Fun Activities that allow you to experience:
A chance to go skeet shooting
Tours of multiple quarries in the area
Enjoy hanging around a fire pit/campfire with other attendees in the quarry
Eat amazing meals including a steak and chicken dinner
Stay overnight at the Choctaw Casino in Pocola.
Benefits and Perks for you to enjoy:
The tour is completely free for you and your company to join
Counts as at least 8 CEUs from the
AIA, ALSA, or ISA
Rides , meals, and stay are all included as a part of the tour package