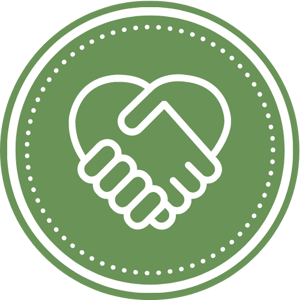 Sowing Seeds.
Building Community.
At Minick Materials we are blessed to be able to work with non-profit organizations as they coordinate
groups, events, and
projects that serve the community.
F
rom builds that enhance and beautify our local area,
to projects that sow into values and create resources for the next generation - we
are honored to give with cheerful hearts, and an overflowing expression of thanks.
Riverwood Elementary "Kindness Garden"
Students at Riverwood Elementary School were encouraged to choose a rock to paint and plant in their kindness garden".
Pre-K teacher Ms. Haney says the students love watering the garden daily so that their kindness will grow, and doing so "has become a daily positive behavior incentive" for them.
Coordinated By: Amanda Haney
Installation By: Riverwood Elementary Students
Products Provided: Clean River Rock 2-4"
Mustang Creek Elementary
"You Belong" Garden
The Students at Mustang Creek also participated in painting their own rocks to be added to their school's You Belong garden.
Each class started with a uniform color background, then each student made their rock special with their own unique design. What a beautiful way to encourage their individuality, while still nurturing a sense of togetherness among their peers.
Coordinated By: Jamie Legget
Installation By: Mustang Creek Elementary Students
Products Provided: Clean River Rock 2-4"
Pivot Tiny Homes
20 new tiny homes were constructed for Pivot Inc. to provide safe and secure temporary homes for youths in need of a place to live.
Pivot is a non-profit organization that works with youth and provides clean beds, food, counselling, tutoring and more.
"Hard work, hours, and love have been poured into these homes".
Coordinated by: Pivot Inc. https://www.pivotok.org/
Installation by: Smith & Pickel Const.
Products Provided : Black Eagle Chips