Production Facility Equipment Operator
Posted Feb 7, 2022
Description
Outside
Most of the day spent in equipment
Full Time: 5-6 days a week possible. 10 hour shift (7-5). Sundays off.


Our Equipment operators are responsible for the manufacturing of multiple products we sell here at Minick Materials. Operating loaders, excavators and different styles of soil screeners. Operators are required to perform daily maintenance of all machinery and fill out logs on machines. Depending on the exact position it may involve some light customer service.
Work day may periodically extend beyond 8 hours as activity and responsibility dictates; some nighttime and weekend work may be required - particularly during our busy Spring season. Attention to detail, fast paced activity and response time to customer and/or company requirements, and results oriented expectations could be the norm.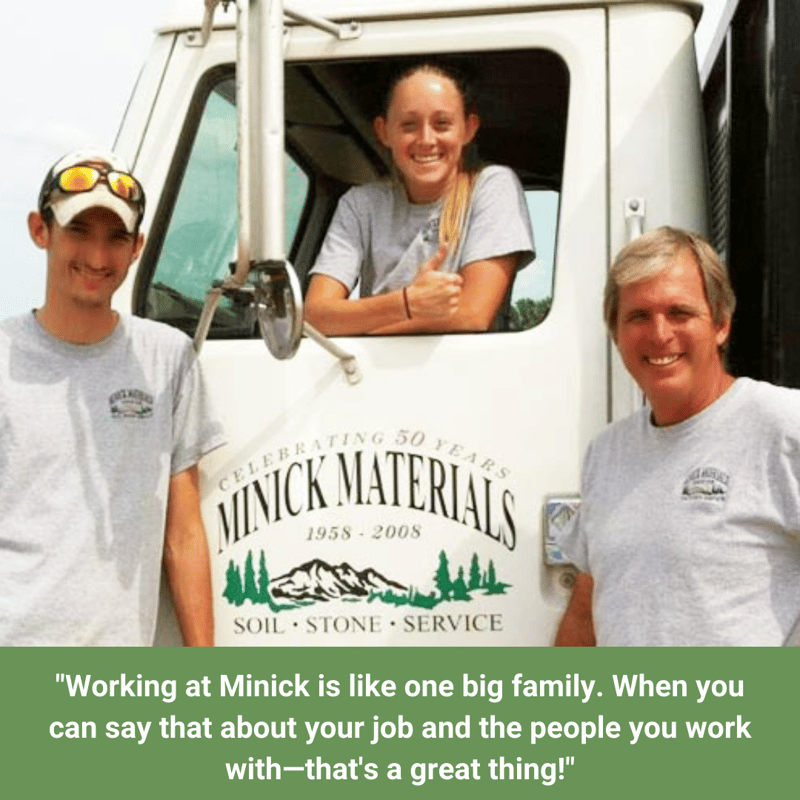 Job duties:
Operate front end loaders, excavators, tractors, etc in the process of creating a variety of products such as soils and composts.
Learn and retain knowledge of products and their applications
Load customer vehicles by hand or with heavy equipment
Operate forklift and front end loader
Perform light equipment maintenance
"Housekeeping"- Maintain organization and cleanliness of yard, warehouse, breakroom, etc.
Work as part of a team
Quieter job with low amounts of customer interaction
Requirements:
Drivers license
Ability to operate in outside conditions, in the cold and heat
Ability to be on your feet for long periods of time
Ability to lift up to 75lbs
Ability to operate front end loaders, excavators, tractors, etc.
Preferred:
Front end loader experience
Ability to work weekends
Benefits:
PTO
Insurance - Health, Dental, Vision, Life
Matching Simple Plan (Retirement)
Maternity/Paternity and Bereavement leave
Flexible Spending Account
Employee Discount
Minimum of $14 per hour
Company parties, events, and incentives
Closed every Sunday and 6 major holidays a year
About Us:
We work hard when we're at work, but it's important that we all maintain a good work-life balance. We want you to go home when your shift is scheduled to end, to use your PTO, and to enjoy your time away from work.
We offer advancement and bonus opportunities as well as fun team perks like events, outings, and more. Working here means working together, so hard work is noticed, appreciated, and rewarded.
We've built our culture on bringing out each other's strengths and relying on one another to work through our weaknesses.
We are a small, family-owned company where everyone's input is welcome. You can make a difference every day you're here.