Best Sellers: Minick's Top 9 Outdoor Decorative Stones
Are considering decorative stones for your landscaping projects? Are you wondering what's really popular right now, or just looking for some inspiration?
Here we countdown our top 9 best sellers, hoping you will discover some ideas for your outdoor areas.
Decorative Boulders
Large decorative boulders can make a statement and be a focal point all on their own. Whether you want a Japanese inspired rock garden or a minimalist installation, the right sized boulder will create impact and beauty where you place it.

Here's a fact most people don't know: if you're looking for a decorative boulder, you can request the size you want! We have many sources and we will make our best effort to find the perfect decorative boulder for you.
Holey Moley!
Decorative boulders don't come in every day, nor are they always available in every size, and the best ones sell fast. Get them while you can! Call us and we'll help you find the perfect one for your space.
Decorative Crushed Stones
Crushed stones are made by and for us, and you can choose the size you want. Crushed decorative stones are really trendy right now since they come in many colors to suit every decorative style. You can vary the size and use them to control traffic, since the larger ones deter people and pets from walking on them, while the smaller ones make comfortable walking paths.
River Rock
River rock is a classic for landscaping and water features, because of their pleasing shape and wide array of colors. They are a steady best-seller here at Minick, and we are constantly sourcing the best river pebbles for our customers. For example, Mexican beach pebbles are highly sought after, and we keep them in constant rotation. We also have fancier options beyond natural river stone: some garden pebbles even come in a glow in the dark option - great for garden paths!
Cobblestones
Cobblestones are always a great option for paths and driveways, to achieve a timeless, classic look. They are also great for lining garden paths and look beautiful around water features and flower beds. When it comes to cobblestones, multicolor, salida, and washita are the most popular among the options we carry. They usually come in two sizes: 2"-4" and 4"-8", choose either one depending on how you intend to use them.
Decorative Gravel
Gravel is being used more and more as mulch in flower beds, and to cover driveways and paths. Decorative gravel is very versatile: you can use it as mulch or ground cover, as an architectural feature, for attractive looking drainage and more. We carry many colors and sizes, among which black eagle is extremely popular because of its style and durability.
Decomposed granite
Decomposed granite is an industry term for bits and flakes of granite, that are sorted by size. They are often used as a ground cover or as paver stabilizers and are really trendy in architectural features. Among these, our top seller is Desert gold (DG for short), which comes in a very attractive golden shade of tan/beige.
Gabion stones & decorative gabion baskets
Decorative gabion baskets are a timeless best seller for their beauty and their structural uses. While gabion baskets are usually filled with river stones, did you know that "gabion" can also mean a stone that's about 8" in size?
Flagstone
When it comes to timeless decorative stone, flagstone is at the tip of everyone's tongue. It's just so easy to use!It's very easy to install, and it easily fits in with practically any decor style. Flagstone is super versatile, and it can be used in many ways: as pavers, as a wall covering, in stairways, to create dramatic water features... And one more good thing is that its sleek look never goes out of style!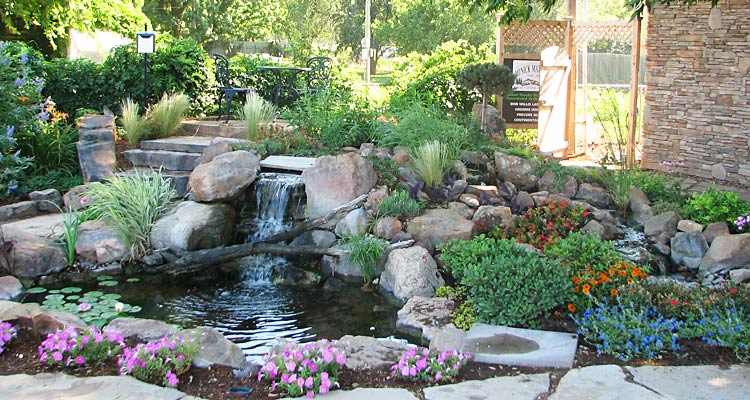 Decorative Stone Tips
Calculate How Much Stone You Need
It's OK if you don't know how much stone you need for your project - we have some handy formulas and step-by-step instructions to help you figure it out. Click here to learn how to calculate how much rock you will need.
Find Your Style
Choosing the right decorative rock involves several factors: the use you plan to give it, the style you prefer, your budget, and even weather or drainage considerations. Just remember: the best deals are not always exactly what you dream of, but a little compromise can save you a lot of money. Click here to read how to select the right rock for you.
Buy by the Yard/Ton from a Landscape Supply Company
Buying from wholesale suppliers is always going to get you a better price, especially if you buy by the cubic yard instead of pre-packed bags. The customer service team at Minick is always happy to advise you on your project, help you choose the right stone, and deliver it to you nationwide.