Get Decorative Stone From the USA's Most Diverse Terrain
Decorative stone is a landscaping trend that is only growing with time. The durability of stone makes it a great investment, and with thousands of options of colors, finishes and uses you are bound to find the perfect fit for your garden, suited to your style and budget.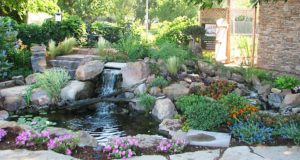 Gardeners all over the country are increasingly using rocks and decorative stone as mulch, for water features, as a focal point in their garden, to create pathways and many more uses. You may have started seeing the articles and images all over magazines and the internet, and wondered where all those rocks come from.
Stone for landscaping can be bought anywhere: from your favorite big box store to a specialized materials shop or even your local nursery or landscaping service. Options and prices vary, but it is readily available. We at Minick are confident we can offer you more options and a better price than most. Do you want to know why are we so confident that we can get you the stone you need at a price you like?
Why Oklahoma?
Out of all the states, Oklahoma is the one with the most diverse terrain. Did you know that, with 11 ecoregions, Oklahoma has the most ecoregions per mile in America? Only 3 other states have more than 10 ecoregions (also known as terrains or subclimates), but none pack them in such a relatively small area.
Oklahoma's varied terrains range from Rocky Mountain foothills to tallgrass prairies, spanning also hardwood forests, swamps, lakes, rivers, caves and more. For example, the western high plains, or the panhandle, are drier areas with grasslands and a frontier feel; while the Crosstimbers with its abundance of lakes has a completely different landscape.
No wonder gardening is so popular, Oklahoma has the terrain and the weather for all kinds of crops!
Unique Materials
All this terrain diversity doesn't only mean more diverse plants - it also means more diverse rocks and soils per square mile. Think of rivers, lakes, mountains, forests, and caves - all this translates into an embarrassment of riches when it comes to choices for landscaping materials, including gravel, slate, river rock and many other kinds of stones.
Sourcing materials in Oklahoma is a smart move because many options are already available here, saving in shipping and handling costs. Imagine that you want a specific type of river stone to use on a water feature or as mulch in your garden: how much better to buy it locally than to have it shipped from several states away! Or maybe you want a dramatic, sculptural boulder to create a focal point -why would you even consider having it shipped across the country if you could source it within the state?
We at Minick have been working in the materials business since 1958, and we know a thing or two about where to find the best decorative rocks in all colors and styles. But we like to keep things fresh, so we are always scouting out new and better sources of decorative stones and rocks for our customers.
We can assure you with all certainty that:
We have colors and varieties you can't get anywhere else.
At any given moment we can offer you 40-50 products with 10 size variations
Take a look at some of our options, and contact us so we can advise you according to your garden's requirements.
Value
The cost of living varies from state to state, and naturally so does the cost of goods and services in each state. You know what they say about the price of food in New York or apartments in San Francisco, and how this cascades down the purchase chain - if the basics are more expensive, everything is more expensive.
The converse is true of Oklahoma - since the cost of living is lower than in many other states, we can pass it along in the shape of better product pricing. Since we mostly source our materials and do our work out of Oklahoma, our labor and transportation costs are comparatively lower, so we can stay competitive.
Yet another perk of working out of Oklahoma: since we're in the middle of the country, we can easily ship to both coasts (and anywhere else in the country!) and keep logistics simple and economical.
Decorative Stone That Ships Nationwide
With its great variety of terrain and landscape, Oklahoma is a great state for being in the materials business, and we make the most of it and transfer our savings to you. We have a really impressive variety of decorative stones that we source locally, and our crushed rock can be made to any size you require. With lower costs and easier shipping, we are a great option for your decorative stone needs - and don't forget we ship nationwide!